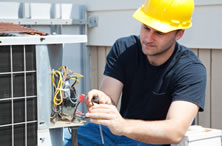 Central Heating and Air Conditioning has 25 years of experience serving the needs of building owners and businesses in the San Francisco bay area. We provide professional installation, repair, and maintenance of all major brands (YORK, Trane, Bryant and Carrier).
We provide the following services:
24 hour/ 7 day a week emergency service. Our response times are 2 hours or less.
One-year warranty on all parts and labor.
Repair, replacement, tenant improvement.
Maintenance contracts to keep your equipment running at peak efficiency.
Design/build for Tenant improvement, clean rooms, equipment and computer rooms and comfort cooling.
HVAC equipment surveys to evaluate conditions
DDC Controls- with full integration of lighting and access control as required.
Water treatment for cooling systems.
Installation of energy management systems.
MAINTENANCE:
CHAC can perform maintenance service on an "as required" basis on all brands of heating and A/C equipment. A detailed written report, sent via e-mail, of any problems found while performing our maintenance service will be provided, along with itemized pricing for the recommended repairs. Should you move forward with our recommended repairs, no "Trip charge" will be assessed on the return visit.
Additionally we offer a range of Maintenance service contracts, structured to fit your needs and budget, all but eliminating costly emergency repairs. See our Contract Service page for more details.
REPAIRS:
Unforeseen breakdowns are a nuisance, and an inconvenience to your tenants, CHAC gets you back up and running quickly with our 24/7 service and highly trained technicians. We diagnosis the problem correctly the first time, and if we cannot repair it on the spot, we can usually have the needed parts in hand the next day, to minimize your down time.
REPLACEMENTS:
If your system is older and repairs are getting expensive, or the system is not energy efficient, we can provide an estimate for replacing it. We also provide a corresponding repair cost so you can make an informed decision. We can often get the system replaced in one business day saving you time, money and the inconvenience of a prolonged shut down.
TENANT IMPROVEMENT:
New installations, unit replacements, and tenant improvements are a core competency of CHAC. We offer rapid turn around time for package type replacements to minimize discomfort. Over 90% of the time we will have your old unit removed and your new unit installed and operational, the same day. CHAC will coordinate all details of the project; including, roofing, electrical, ductwork, piping, structural, all permits and title 24 reports.
ADDITIONAL SERVICES:
CHAC offers design/build for tenant improvement, clean rooms, equipment and computer rooms and comfort cooling.
HVAC equipment surveys to evaluate conditions.
Building correction surveys eliminate OEM design flaws
Water treatment for cooling systems.
DDC controls.
Install full energy management systems, centralized graphic-based scheduling and monitoring workstations, as well as, after hours HVAC bypass systems, and automated tenant billing.
CHAC can also integrate lighting and access control into the DDC system to work in conjunction with your HVAC system.